Even I can't believe that I'm posting pictures of my trip only a week or so after my trip! I must be getting more organised/hardworking/diligent ... by the way, the photos below aren't the same as the ones on my Facebook album, so no one gets bored.
On the 12th of December I was supposed to head down to Singapore for a much-needed break after my hectic November. I'd chosen that weekend because
Yogamaster Jac
had told me she and a bunch of friends would be heading to
ZoukOut
. Sounded like fun, so I told her to count me in. I persuaded
POD Rach
(that's POD for Photo Obsessive Disorder) to join us as well. So, as you know, I was really looking forward to a weekend of fun.
However, a few days before I was to head down,
Yogamaster Jac
nicely pulls out of the gig along with all of her friends... leaving only me and
POD Rach
to layan ourselves at a
beach rave party
. Cis! is all I can say.
At least she didn't pull out of our
Supperclub
plans...
So, on Friday morning, I hitched a ride down to Singapore in
UFC's
awesomely comfortable BMW, together with
Mumsy Bumsy
and co-worker
Jolene
. The three of them were heading down south to check up on the newly-opened
7atenine Singapore
(note that this is actually the first time I'm typing out its actual name instead of just using the numbers!).
Nabbed a pair of Chanel sunnies from the dashboard and decided to borrow it for the weekend. Later finding out that it cost RM1200... regretted it a little (in case I lost it!). No wonder the sales assistants at
Marina Square
treated me so nicely.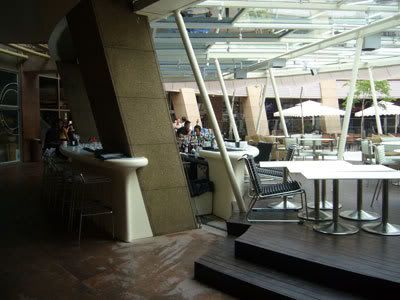 The bar area.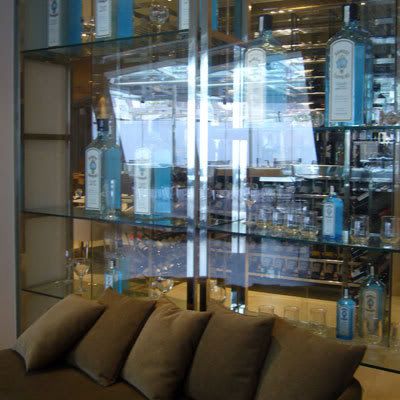 I want those giant Bombay Sapphire bottles!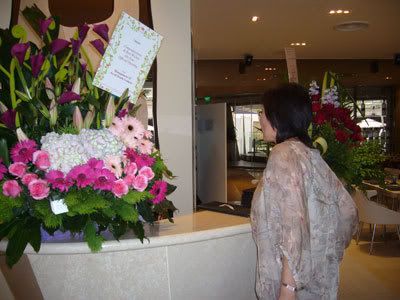 Mumsy Bumsy making sure the front-of-house person is pretty enough hehe. Ascott Kuala Lumpur was so nice to send these flowers for the opening.
789

is now open at the

Esplanade

, by the way. So drop by if you're in the area.
After doing some shopping at
Marina Square
, I went home to get ready for dinner and
Supperclub
with
Jere
and
Yogamaster Jac
. By the way, "home", meaning
Jere's
home.
Incidentally, decorations on Orchard Road weren't fantastic.
That's the view from
La Salle Neige
at Supperclub. It means "The Snow Room". That's a projection up there on the wall... I'm assuming
dejavu
was the theme of the night.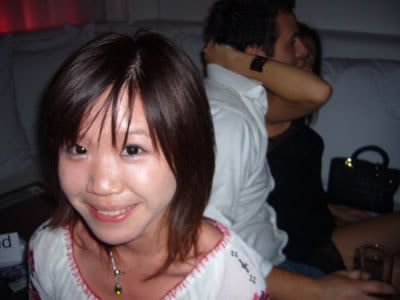 Funny things happen when you add alcohol to the night. Here's
POD Rach
looking sweet and innocent, while behind her, some couple is doing some decidedly dodgy things. I just couldn't resist snapping this picture.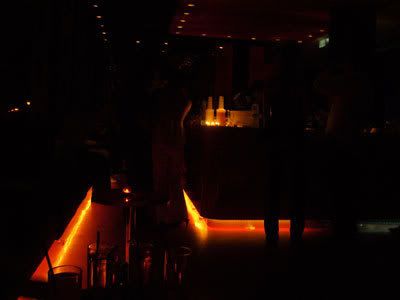 Le Bar Rouge
upstairs, with good-looking bartenders - and one much more so than the others. I have a thing for guys with long hair. Well, of course, they have to look good with it as well!
And that's the nice combo of lighting from the small
Le Bar Rouge
upstairs and the bigger
La Salle Neige
downstairs.
On the whole, I enjoyed my
Supperclub
experience, although I expected the place to look and feel more different from other clubs. I suppose I'll still have to head to the one in Amsterdam to get the actual
Supperclub
experience I'm looking for.
The next morning I slept in so that I'd have enough energy to stay up all night at Siloso Beach. Went out in the afternoon with
Jere
to look for some sandals (yes, I left my flip flops at home in KL!) and shorts. He later left me to join his friend who needed help in planning his proposal to his girlfriend. Ooooh.
I was killing time in
Borders
, Wheelock Place, when I bumped into
Gamemaster Jon
! Singapore is that small. So we went for coffee and a chat. After that, had a nice Japanese dinner with
Yogamaster Jac
where she found out that I had become chief skank of KL. Hahaha... just kidding, of course.
After such a long day, I was naturally exhausted, and kept delaying leaving for
ZoukOut
.
POD Rach
hung out with me at home till about 1am when we finally made our way to
Vivocity
to catch the train over to Sentosa. They were actually yelling out to us to run because it was the last train of the night crossing over! Bloody lucky we were.
By the time we arrived, nearly everyone was already drunk and rowdy. It was a little strange, since there were only two of us, and we were completely sober! However, one of
Charlie Wonka's
friends had told me he'd be there with some friends, so we arranged to meet up.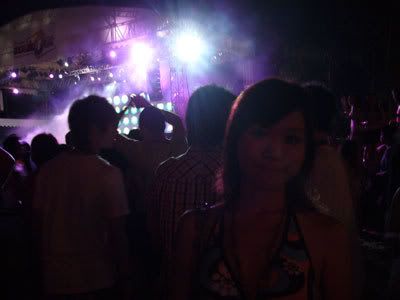 POD Rach
in front of the
Velvet
stage. We spent most of the night there, but towards the end, the
Zouk
stage was better. Stayed clear of the third stage, can't remember what it's called now.
RnB/Mambo
or something like that? The music was simply ghastly... Imagine
No Doubt
remixed. And dancing to that. Okay, maybe some people like that, but if you're one of them, then you're just being silly.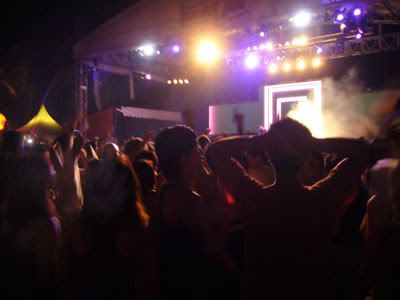 Another shot of the
Velvet
stage. The
Zouk
area was full of muscly hunky gays, so we felt a little out of place.
Yet another
Velvet
pic.
Singtel VIP Yacht. Apparently free flow of drinks :( The next time I go, I'm getting VIP passes from
UFC
!
And to please the males, a shot of one of the many hot chicas there.
On the whole, the event was alright. It was definitely an experience, and would probably have been better if our friends hadn't bailed out at the last moment! We did have the company of
The Oompa Loompas
, but it just wasn't the same...
Anyway, I think I've written quite enough on the Singapore trip. I feel it's time to head down under to Melbourne soon, but I haven't decided when yet.
Oh, and lastly, today was my last day at
Marie Claire
! I can finally catch up on some much much much-needed sleep. I was also lucky enough to be around for the distribution... well, the
grabbing
of goodies from the Beauty Box. I feel like I've just gone shopping for free! Thanks, guys!