Word of the day: prijs = price
Oritey. I have a BUNCH of photos to post here, but they were taken over a span of a few weeks, and it's gonna be super tedious to place them in chronological order, AND remember why they were taken. But I shall give it a try.
Here are yet two more photos from
Scheveningen
and
Madurodam
. Last batch, I promise. Forgot these were in my email, taken by
Schrobbenmaster's
mum.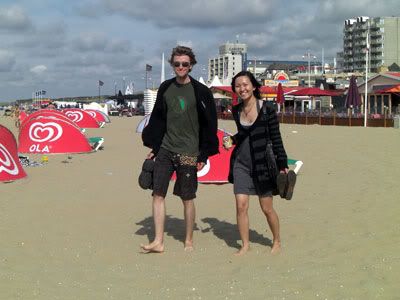 Walking on the beach.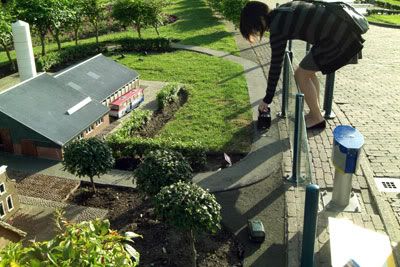 Me picking up my ceramic clogs souvenir from the little truck that delivered it from the little factory.
And for those of you who are interested, here's a photo of me on most days, being a nerdo.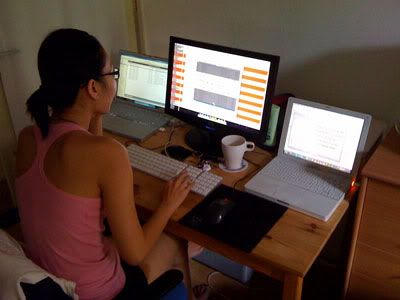 Three screens in front of me... power!
A couple posts previously, I wrote about going to
Amsterdam
with
Schrobbenmaster
cuz he had a meeting. Which is where I was left to roam about on my own for a couple hours. After shopping, I decided that I'd had enough of walking alone, and looked for a place to have coffee. From experience, there aren't many to be found around here, compared to KL. So I stopped at the first decent-looking venue.
Sat at
Sissy-Boy
, which sells furniture and home decor. Cool stuff. Attempted reading the Dutch food menu, but decided not to eat in the end. For the record, I did manage to settle on a ham and cheese croissant, so yes, I did succeed in tackling the all-Dutch menu.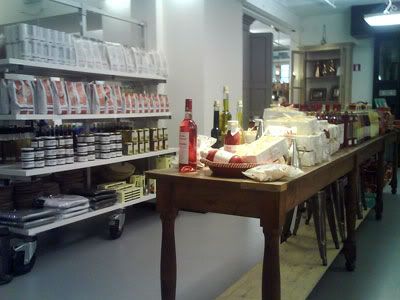 Some of the wares around me in
Sissy-Boy
.
And that's the counter where I ordered my drink. But I think the way it's done here is that you sit at your table and they come to you. Not used to that.
After
Schrobbenmaster
joined me, we walked around the city where he bought an autumn/winter jacket at a skateboard shop, and wandered around a bookstore with really cheap books. I didn't buy any, but he bought two cute cartoon books, one about
evil penguins doing evil things
, and another about
bunny suicides
.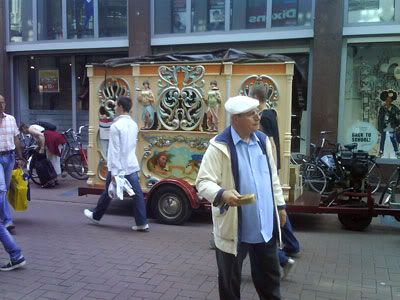 Saw a traditional music organ box kinda contraption, where old men wheel the music-playing contraption around the city and go around with cups getting coins. Kind of an old tradition here, I think. I gave 50 cents (apparently, the norm) and took a photo.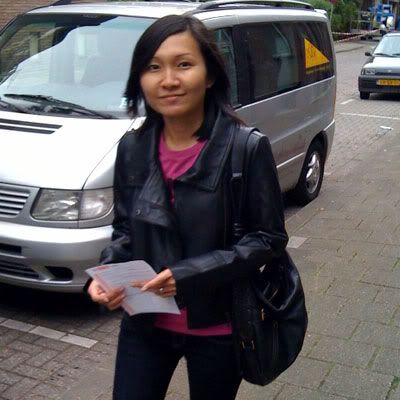 And this is the leather jacket I bought there.
Now, some food photos. What post of mine is complete without dinner photos?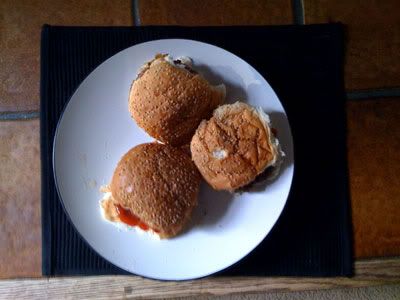 Schrobbenmaster
calls these "Patented Hamburgers". Very modest-sounding name, doncha think? Very tasty too.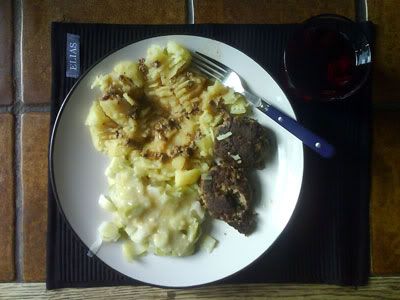 Another
Schrobbenmaster
creation of meatballs, potatoes and leek. Yummy!
I tried another Japanese dish after the Gyu Don. Been craving Jap food so much, and after buying Jap rice and all the necessary dashi, mirin and sakes, I just couldn't stop looking for Jap dishes to make. Tried chicken katsu don here. The chicken was good, but sauce was a bit too salty.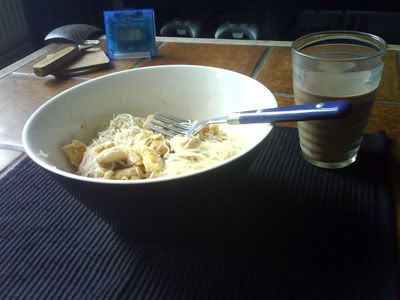 This is our new bowl! We only ever had one big bowl, and that got taken away during the *ahem* custody battle (don't ask), so we went out to buy two new bowls, which frankly, are much better than the old one anyway!
For dessert, we sometimes make brownies, have some fruits (rarely), crisps or vla.
Here's me eating vla in bed. Slurp!
Some weeks ago, we were watching a video when we heard some commotion outside. Went to the window and saw this: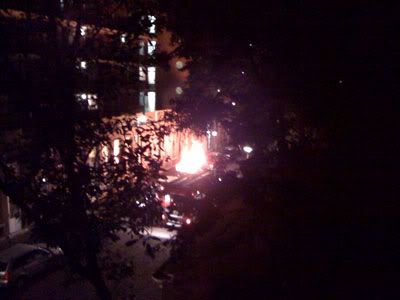 A garbage skip was on fire! The fire brigade was there and setting up, and there were a couple of fat men on the pavement looking on. Then a few hippie youths appeared on the other side of the pavement and stayed a bit. It wasn't really all that interesting actually, and I got bored quickly. So went back to the sofa.
It sometimes get a little stale staying at home all day and night here, so we sometimes head out on the bike to see the city.
Schrobbenmaster
took me to the park near the Euromast, next to the river.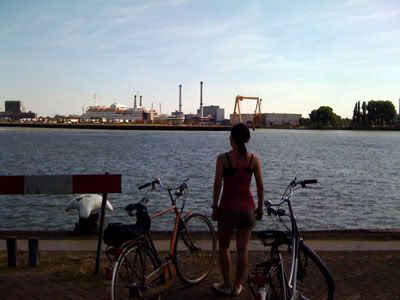 Me looking out at the ships sailing by and the jet skiiers harassing them.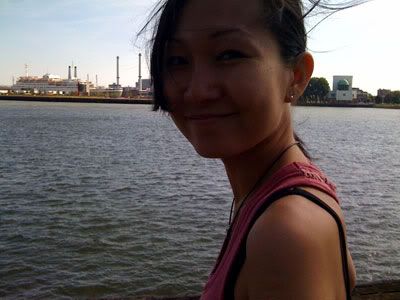 Kinda liked this photo, hair blown in the wind and a kind of serene feel to it.
Earlier this week,
Schrobbenmaster
and I visited
eenbrauw Ruben
at his home. Ten minutes into the journey, it started drizzling and we had to stop by the roadside to take shelter under 10cm of doorway ledge.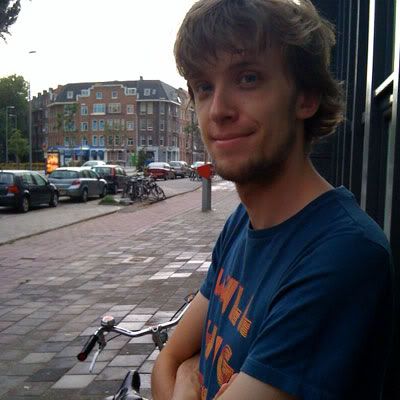 Still smiling through the rain.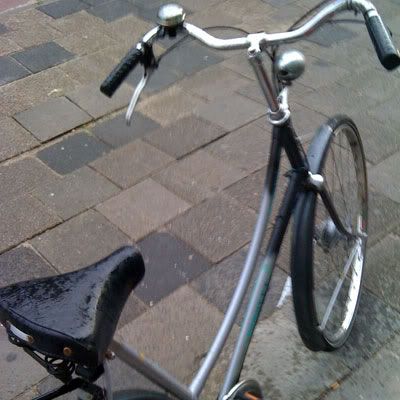 My wet bike. I had a raincoat to protect me, although the macho man decided not to bring his even with the dark clouds overhead.
On Wednesday this week, we took a day trip down south to
Maastricht
, right at the south eastern tip of the country. Really nice town, and definitely worth a visit for the quaint lanes and really nice boutiques and shops (that didn't turn out too expensive after all, but still too expensive for me).
Posing on the bridge.
Bunch of cafes next to each other looking all touristy. We decided to go somewhere else for coffee...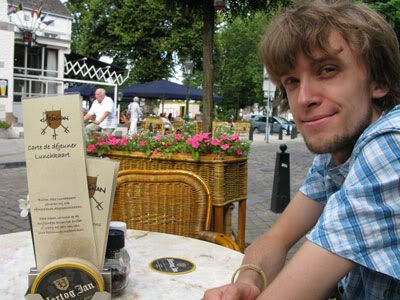 ... and ended up in another touristy cafe/bar. But at least this was just standing on its own, unlike the ones by the bridge, which are just so obviously touristy, right? Ahem.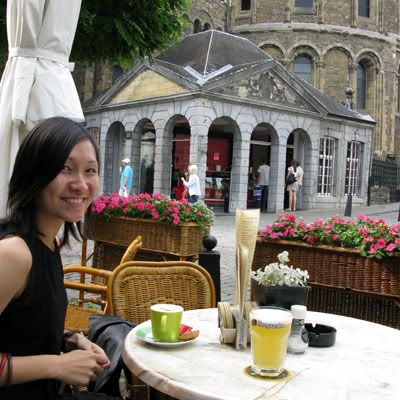 Cappuccino and Hoegaarden. I've given up on looking for Cafe Mocha or a Mochaccino here.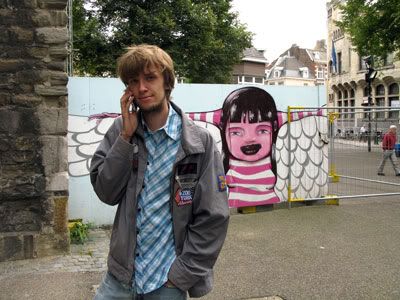 His new pink best friend.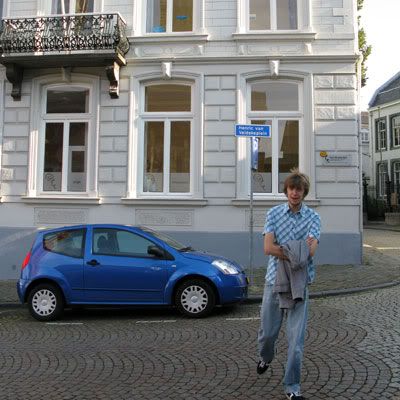 My Blue Piece. Also notice the blue ornament in the first floor window that completes my masterpiece of monochrome.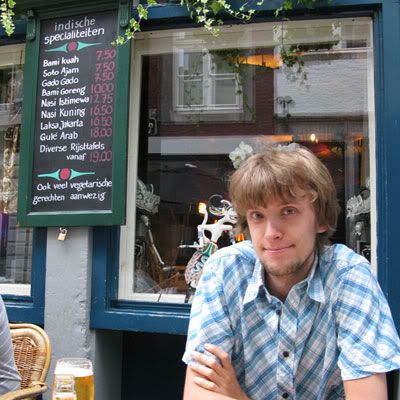 After walking by several Indonesian restaurants in
Rotterdam
and drooling, we decided to eat at one in
Maastricht
. The food here was rather tasty, but
sambal udang
is definitely better Nyonya-style.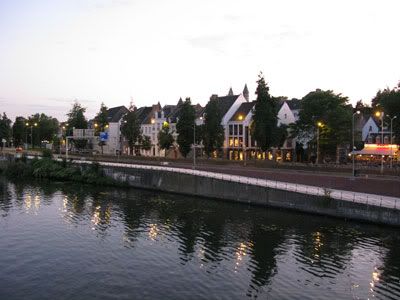 Houses by the river. Must be really serene.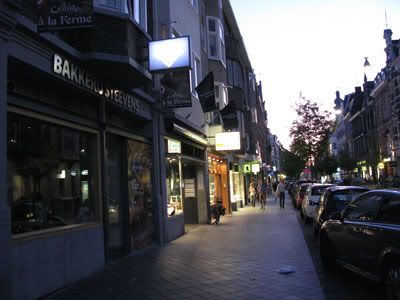 Shops by evening light. Hung around town while waiting for the long train ride home.
Finally used up all my photos that were pending! Wow, my fingers are tired.
frachely
, I don't know how you can write posts on Italy that were from months ago and put up all the photos and stuff. Phew!