Word of the day: ijs = ice cream
What a freakin hot day it was today! It almost felt like being back in KL. Had a huge battle after lunch with the mountain of dishes in the sink, resulting in wrinkly fingers. Boooooo. Got too warm and stuffy in the house after a while, so went out for a walk in the city and to get some coffee.
One thing I'm learning about this country. I used to think Europe (or at least Western Europe) had so much more things and better things than in Malaysia. I'm slowly realising that I can't get a lot of things after all. One of them being Cafe Mocha. Or any type of mocha drink, except at
Bagels n Beans
. Another thing is that you only get ONE type of iced coffee. The blended kind. And even then, I can't get iced coffee in a cafe/bar that supposedly has the best cappuccino in the city. Also that if one supermarket sells green peppers, another will only have red peppers. However, today I saw that
Albert Heijn
had all three colours... shock, horror, gasp!
Anyway, sitting at
Spiegel
having hot cappuccino on a hot summer's day... hot drink on a hot day, not so cool. But, well, I don't drink beer, and I didn't feel like a juice. We were there for some time, talking about the country, the people, the culture and the eventual lifestyle I might have, of a 9 to 5 day. SIGH. How depressing. I feel like an island in this place, all alone, not understanding anyone or anything. Why, the other day, some Asians even spoke Dutch to each other, commenting on how I looked strange. Strange! While they're dressed up like Filipino maids on their day off. How insulting is that??
On the upside, I made a smashing
Gyu Don
, courtesy of
frachely's
recipe recommendation. The ingredients were so expensive though, having to get proper Jap stuff from a proper Jap shop.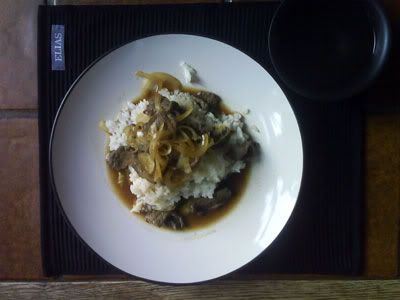 Worth the expense! Not even much prep at all, compared to the other dishes I've made.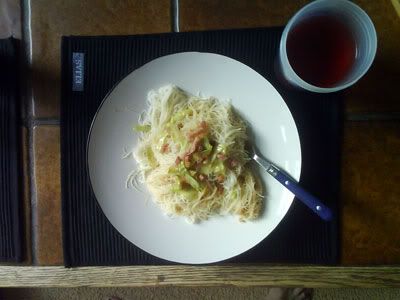 I also tried something spontaneous a few days before that. Found an idea for bacon and cabbage, so decided to throw in some meehoon and seasoning. Yum!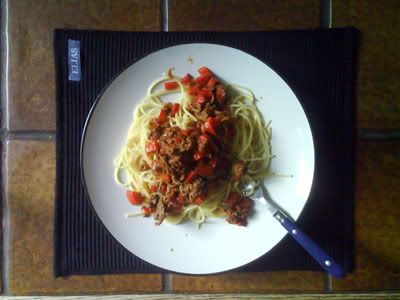 And tonight, a simple pasta dinner. Good portions and nice-tasting, albeit a little dull (since it's spaghetti and nothing really special... pooh).
Another highlight of the week was meeting
Schrobbenmaster's
parents for the first time. They took us to
Scheveningen
, to the beach, where we played around in the sand for a bit, then adjourned to
Madurodam
for the miniature Holland. In there, you can see models of various cities in the country and I guess then decide where you want to visit. The models were really, really good, with moving vehicles, puppets... even Schiphol airport had airplanes the size of a 6 year old, moving up and down the runways courtesy of mini computers and magnetic systems.
After the lengthy visit -
Madurodam
is huge, bigger than meets the eye - we went in search for dinner in
The Hague
. Nice place, with some pretty old buildings among big ministry offices. Using the iPhone for navigation, we found out after 30 minutes of walking that
El Sombrero
was closed for a private function. So we retraced our steps back round the corner and went into
Le Connaisseur
.
Nice
gezellige
place, decorated in the style of an old study, with bookshelves, dim lighting and wood panelling. After perusing the menu for a while, we all realised that we were ordering 4 tomato soups for starters, and 4 teriyaki chickens for mains. How coincidental is that?
Schrobbenmaster's
dad decided to make us less freaky and changed his starter to jambon and melon. The food was delicious, and after skimming down the dessert list, I decided I already knew what I wanted. And guess what? The others had also decided to have the Ladykiller. A warm chocolate fondant (which was absolutely excellent, by the way). This time, it was
Schrobbenmaster's
mum who became the odd one and had ice cream instead.
Really good food. If anyone is in The Hague and looking for a place to eat, go look for
Le Connaisseur
, near the big candy building.
Will post photos from the beach and
Madurodam
up shortly.