Word of the day: poep = poop/shit
It's
Schrobbenmaster's
first day at work today! It's a tremendous two hour journey one way, so it's a good thing he works at a creative agency where they're more relaxed about schedules and actual presence in the office.
I'm thinking of changing
Schrobbenmaster's
nickname. It's such a chore to keep typing it, it's so long!
Last Saturday, we took the train up to
Hoorn
to visit his parents.
Hoorn
was one of the VOC's (Dutch East India Company) main cities, and they probably prospered much because of it. When we arrived, we took a walk round the shops and to the lake (which was the sea before they closed it up). Loads of sailboats all over the place.
We stopped here to take some photos. We stood in a square... not sure if it's the main square, but apparently to the left is the Big East, and to the right is the Big West. So I'm assuming we were standing in the middle. Which is normally the main square... right? Plus, they usually have the cheese market here. Cheese market season over though, so no pics of that.
This is where they used to weigh the cheese, just next to the square.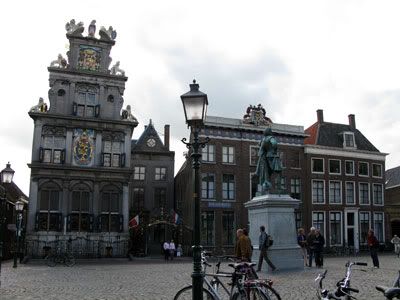 And opposite the Waag is the Westfries museum. The three-step roof holds the shields of the VOC's main cities. Hoorn is represented by the horn. Incidentally, their animal saviour is the unicorn. Not a very reliable hero in any case of real threat though.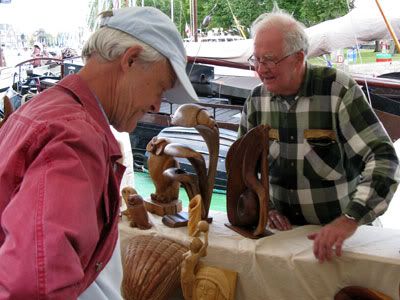 Mr VDK
chatting with a stall owner who makes and sells (or just sells) wood or shells or something like that. I was more interested in the stall next to it...
Actual clog maker! He was also selling actual antique wooden clogs on the ground, just plain wood - survived the World War, but almost didn't survive the woodworms he'd saved it from.
Boats in the harbour. Harbour is 'haven' in Dutch, by the way. Wonder if it has any history with the English word 'haven'.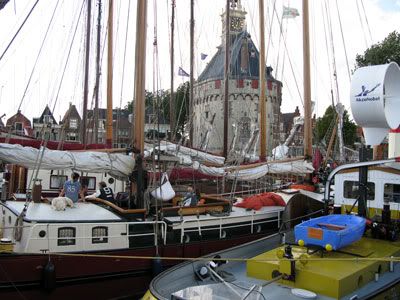 More boats. And a famous building behind... I think it's one of those watchtowers or lighthouses. Can't remember what the VDKs were saying to me now.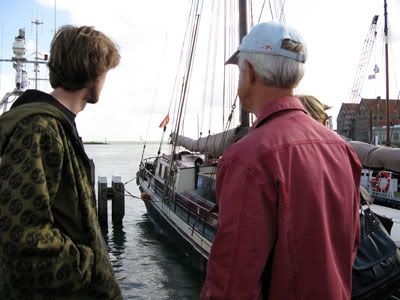 Schrobbenmaster
and father looking out at the boats. Actually
Mrs VDK
is there too, her blonde head just poking out a bit from in front of her husband. She just decided suddenly to move before the shot was taken.
The next day, on Sunday,
Schrobbenmaster
went sailing with his dad and two brothers in
Friesland
, while
Mrs VDK
and I took the train down to
Amsterdam
to do some shopping and watch
Cirque Stiletto
in Carré. The show was good, and walking around was nice. It was the weekend of the Uitmarkt, when they preview the coming season of arts and theatre performances, by having stalls and live performances all over the city.
There were stalls full of books, there courtesy of the publishers, and several authors autographing. I spotted a sign that said that
Jean-Marc van Tol
, artist of renowned Dutch comic,
Fokke & Sukke
was autographing. So I stopped
Mrs VDK
and we queued up to purchase a 2010 calendar and get an autograph for
Schrobbenmaster
, who reads the website every day without fail.
The queue was taking so long that we missed our train back and decided to stay in
Amsterdam
for dinner then head home instead of having dinner at home. When we reached the front, we found out that it took so long because
Jean-Marc
was drawing a comic for everyone instead of just signing! How awesome is that? He asked about us and to give him our story. So we told him that we were supposed to have this day for ourselves, to shop and watch a show, but ended up spending most of the day exchanging
Schrobbenmaster's
jacket at a skate shop and then in the queue for
Fokke & Sukke
for him as well!
Jean-Marc
immediately started sketching on the calendar, and it was really awesome to see his work come out so easily and effortlessly.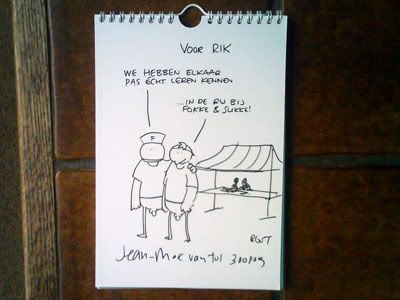 This is the result!
Those two in front are Fokke and Sukke.
One says: "We have learnt a lot about each other today." And the other continues: "... in the line for Fokke & Sukke!"
I think
Schrobbenmaster
was pretty pleased with the gift when he got home from sailing!
ps. We had dinner in McD's, and the floor was so disgusting, my shoes literally nearly left my feet because they were stuck to the floor!