Woke up today to a drizzly morning, very cool temperatures and a peaceful atmosphere. I love rainy mornings.
We went to the supermarket yesterday to buy ingredients for a teriyaki chicken marinade for dinner tonight, but they had run out of garlic, so had to go this morning instead. Gave me a chance to wear my designer raincoat at least. The chicken is now marinating in the fridge, so check back tomorrow to see how it goes tonight. We were missing a few ingredients and I made one mistake in the marinade. So... it could be interesting.
Anyway, yesterday we had a busy day. Went to practise my biking in a park nearby. Wheeled the bike all the way there, then cycled around a lake, watched a Siberian Husky playing in the water, and subsequently having a slight 'wet fur' weight issue when climbing back out onto the rocks.
Biking went better than the first day though, so I'm a little happy about that. Hopefully it means I continue improving and by next week be able to cycle almost normally. Had an insolent postman say to me as he passed (I'd failed to mount the bike once on the road in front of him), "Sidewheels.". The cheek.
After biking practice, we kept the bikes and walked to the Hoogstraat, or High Street, to look at the shops. It's just about 10 minutes walk from home, so very convenient.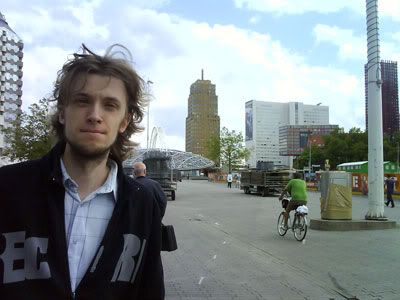 At the starting point of Hoogstraat.
A big church building on the left there.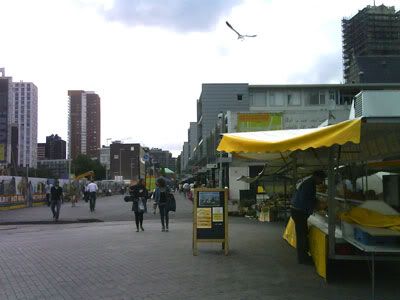 A little nearer Hoogstraat, with some stalls. Yes, I know, very interesting.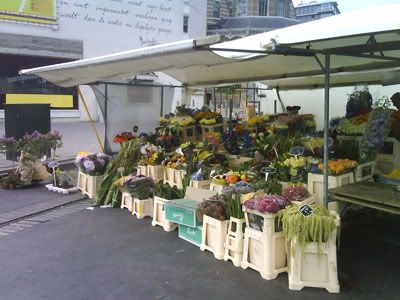 Flowers! Really beautiful. So nice to see different flowers from the ones I see in KL all year round.
On a level down from the street.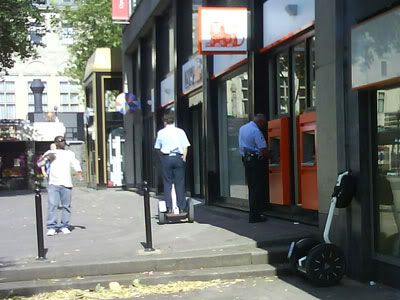 Security guards using Segways.
Wayang kulit
without the
kulit
.
Picked up some pizza for dinner and watched Watchmen at home. Didn't really like it. To me, it was like a very well done B-movie.
Word of the day: moeder = mother