It's Tuesday and I can't focus on work. That's the thing about having Mondays off (public holiday)... when you do get back to work, it's suddenly Tuesday and you've lost your Monday. I know that sounds strange, but that's how I feel today. What happened to all the things I have to do on Monday?
Having Monday off did allow for a super fun, albeit tiring and confusing Sunday.
Anyway, first things first... as I haven't been writing for a few days now, I should do another weekly round-up!
Thursday was
Mumsy Bumsy's
birthday, so
Yelleh Belleh
and I made dinner - experimental Aglio Olio. It was a fun and nice night.
Mumsy Bumsy
at work while her two girls potter about the kitchen.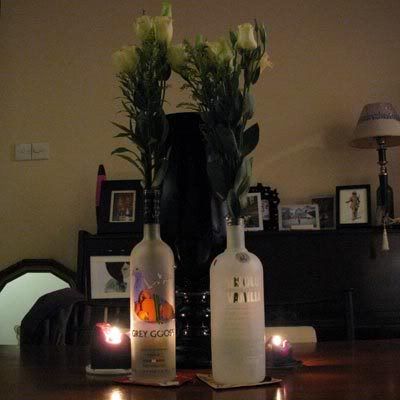 The dinner table setup.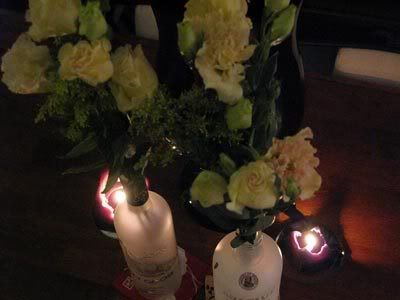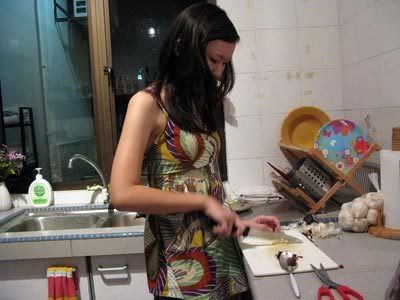 Yelleh Belleh
working the garlic.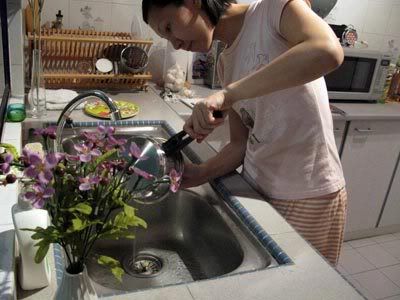 Draining the water from the pasta.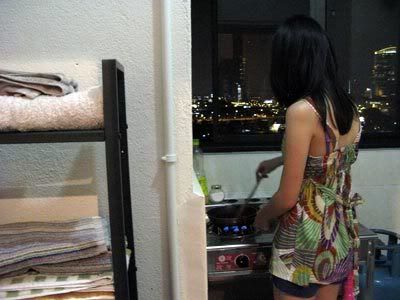 Lovely view out the window when any of us cooks. That's what makes me love living in the city.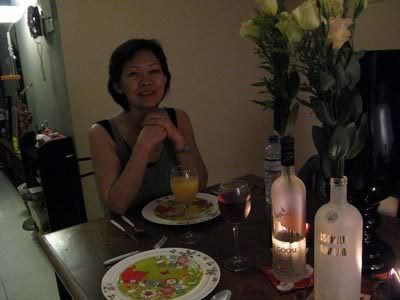 Happy birthday!!
---
Friday was some
Chivas
launch party at
Euphoria
, MOS. Heard it was free flow so obviously put my name on the guestlist haha! The other attraction is that the venue is smoke-free woohoo! It was lovely getting home after and having normal smelling hair.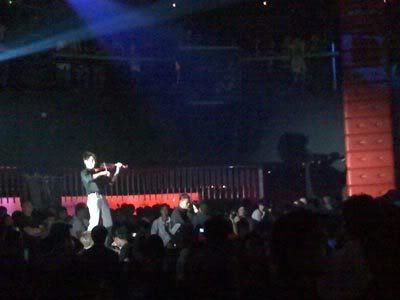 Only took 2 photos from my phone cuz I didn't wanna look too cheesy haha. This was one of the first acts,
DJ Blink
at the console, playing with live guitarist, bongo player and violinist. Very cool indeed.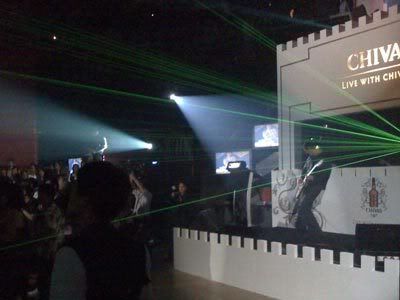 Needless to say, I got kinda hammered. Awesome night indeed.
---
Saturday went to watch
Sarah Brightman
in concert, on her
Symphony
tour. It wasn't as good as when she came a few years back, cuz this wasn't a real performance. She just stood around waving her skirt, singing. When I saw her a few years ago, she did the proper stage dancing, flying about stage with costumes, props and the whole caboodle.
---
Sunday,
Tequila Lin
wanted to take advantage of the Monday holiday so we went to
Sky Bar
, along with a number of her other friends. Had really good wine, one of the only times I actually manage to select a good one. Think it was Green Point Shiraz, Yarra Valley.
Had a reeeaaalllly long night of it... adjourned to a guy's house after closing to continue the merriment.
Tequila Lin
was falling asleep towards the end, so we decided to leave soon after. Got freaking lost on the way back cuz this guy stays in Bukit Antarabangsa, and I found myself on the road to Genting and Zoo Negara... I think it took me an hour or so to get back to a familiar place!
Still a fun and very interesting night... ;)
---
Just found these old photos of
Schrobbenmaster Rik
and I having dinner at an English pub,
The George and Dragon
in
BSC
. The food is actually really good!
Thank goodness this English pub had chilli sauce.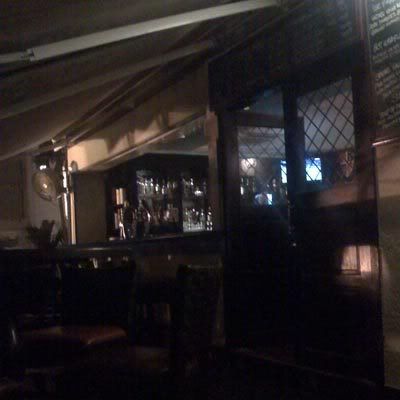 Pretty authentic looking.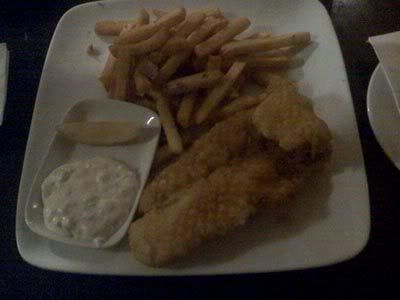 My fish and chips. It was yummy!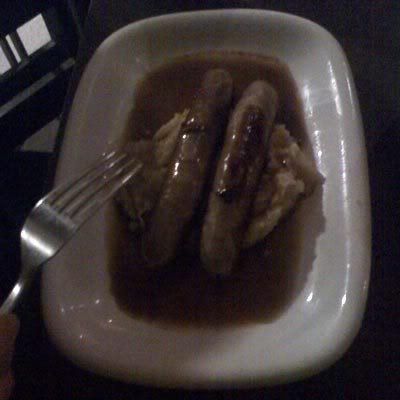 His bangers 'n' mash. Smelt yummy!
He's really killing the bangers over there.
---
Got a work meeting in a bit, so I'm off now.