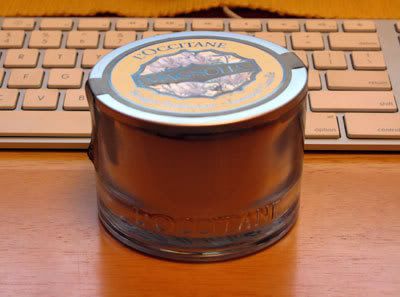 Started an obsession with fragrant candles recently. Well, ever since the dogs moved in and started leaving their own furry smell everywhere. Tried the cheapo candles before from IKEA and other places, but
they don't work
.
Last Christmas,
Mumsy Bumsy's
friend gave her a set of
Marks & Spencer
fragrant tealights which she passed to me. So I tried them out, and they were superb! Have only one left now :( but
Mumsy Bumsy
helped pick up a candle from
L'Occitane
earlier. It smells delicious, but I haven't lit it yet, so can't give a verdict. Judging by the price, though, I'd say it bloody well works :) You just can't skimp on these sort of things cuz you really get what you pay for.
Talking about skimping, I picked up the India Hicks fragrant candle in
Crabtree & Evelyn
and saw that it cost RM175! I hope my eyes were deceiving me though. Don't think I'll ever try that out unless I have a very generous friend who buys me that for Christmas.
I remember getting an
Annick Goutal
candle in a jar (which came in a zipped pouch!) a few years ago as a gift and by golly, did it last! It just wouldn't finish burning and the smell was amazing. Well, the strength of it anyway. The smell itself was one of their signature weird smells. Not bad, just... unique. Like their perfumes. But at least you get the feeling that they actually
do
do their work instead of sticking their name to someone else's fragrance.