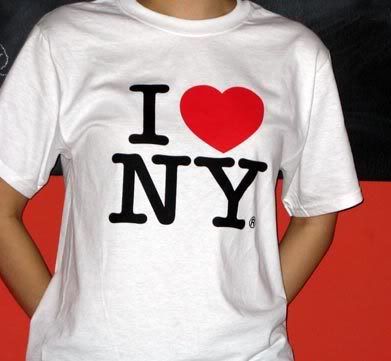 Look what I got! A nice little present from
Sharry Berry
while she was in NYC a few weeks ago.
Always admired this design from afar (note: magazines and websites) and felt disdain for copycats (note: DIGI and Sony Ericsson... although SE is not as outright as DIGI is). But to many people, this I heart NY design is just a graphic, just something you know, recognise and overlook, and very often, with icons like these, people don't realise how much history it has and how it came about.
That's why I'm using this post to enlighten my readers :)
The
I Heart NY
, or I Love New York logo was designed by Milton Glaser way back in 1975 (I wonder if they had a 30-year anniversary of the logo and I missed it?). Like in most design fairytales, this iconic logo came about when he was doodling in a taxi. Sigh. (But of course, they never tell you how much he probably cried and sweated in his studio before getting this brainwave.)
So respect where respect is due. Awesome logo, timeless and inspirational for generations to come!