L
ast weekend, I was feeling kinda bored, so I called a few of my
kaki
for dinner. Dan, Bin, Thila and Lapsap (sorry, dunno what other name to give ya) joined me for a Korean BBQ dinner at Seok Gun in SS2. My first experience in Malaysia.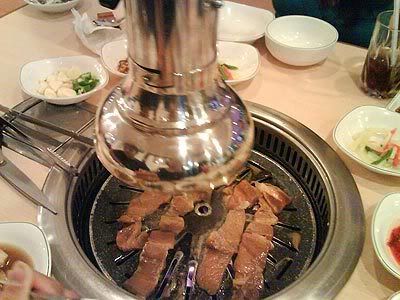 Since Lapsap is almost a Korean himself, we bade him do all the ordering. Happily, he ordered in Korean and we put all our trust in his tastebuds.
He proved himself to us with a wonderful dinner of beef, pork (there was pork, wasn't there? Or did we accidentally get a double order of chicken?), chicken and 3 types of soup. All very tasty except for that beancurd soup thingy. Can't tell you not to order that since I've no idea what it's called.
Those are all the side dishes that accompanied our order. Had fun trying them all, but I dunno if I'd have all of them again the second time. Nothing really stood out for me but maybe I just had a taste amalgamation situation in my mouth with all the spices.
That's Thila on the left, dreaming of Jason Castro of American Idol fame. Unfortunately, Jason himself was dreaming of Bob Marley.
I just had a thought: Isn't it funny how all my dinners end up with 5 people, no more no less?