D
ropped by Central Market today to see what was on offer at Art for Grabs, where everything is RM100 or less. Sounds potentially rewarding, doesn't it? So Bea and I went eagerly looking for hidden treasure.
Well, the Annexe Gallery was full with everyone displaying and selling their wares. I must say I was hoping for more art, rather than the abundance of crafts that were available. Sure, crafts is art too, but really,
you don't have to go far to find crafts for under RM100, do you?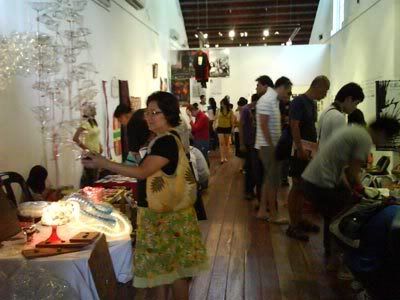 Ex-colleagues Danny and Winnie were there selling photographs. Very nice, but... I don't buy photographs. Why buy when your boyfriend is a photographer who takes brilliant photos? Plus, I don't frame photos of places I haven't been to, or of people I have never met. Having said that, though, please buy photos if they really take your fancy.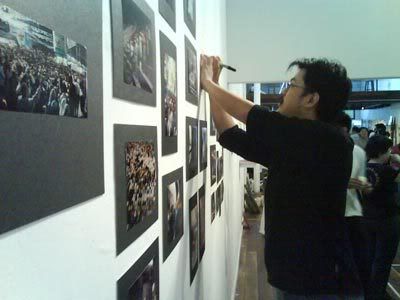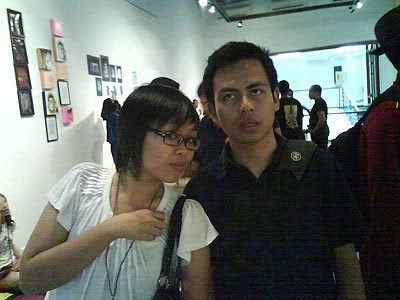 Oh yes, I also bumped into ol' Fahmi F who was bouncing around the place carrying some intellectual literature, or mind-provoking prose, or whatever it is he's championing at the moment. :P.
After buying a pair of handmade
mengkuang
earrings and some mini cupcakes for Mumsy Bumsy, I went downstairs to They Art Gallery to look for some real paintings. Everything's very affordable there with canvases ranging from RM25 into the few hundreds (but very worth it considering the size and technique of the artists).
By the way, I was speaking to an artist selling his paintings at the event upstairs, and found out one of his paintings cost just under RM2000, so I peered closer at the work to see what could make it worth so much. After which I still saw black and white lines and a huge smudge. To each his own, I guess.
Anyway, back at the gallery, a piece of art by Damis of Super Sunday, a graffiti artist, called out to me. So I bought it. Very nice, simple and good display of technique. It's now hanging on the wall next to the main entrance.
Viewing by invitation only.