I'm so not looking forward to this week! Nick, why do you have to abandon us at this crucial time??!!
O
kay, I'm not dwelling anymore on the awful prospect of working 18 hours straight every day this week. Instead, I'll talk about what's on TV right now. Watching [V] Countdown, which I haven't watched ever since I grew up. Haha. So funny.
I'd always rather disliked Rihanna because of her ear-piercing, nails-scratching-on-blackboard voice and super-high forehead, and when I heard the latest single "Umbrella" I was like... uh what?? Okay, the tune is pretty cool but I couldn't understand the need to have "ellaaahhh ellaahhhh eh eh eh eh eh eh blablabla". Then tonight, I just saw her music video. AND IT'S AMAZING. I really love it! Totally turned my opinion of her around. That gal can move! Nice measured movements that are not quite sexy but very (ooh!) appealing. I like it! Keep on dancing!
Other vids like "Big Girls Don't Cry" by Fergie... my sister Elleh Belleh was pestering me to watch it to see Milo Ventimiglia looking all grown up and cool. He looked alright. That boy has a nice face. Very nice indeed. He just looks a bit petite to me. Anyone know how tall he is?
Earlier today, my place was invaded by the Sisters. Yes, Elleh, Asha and Arya dropped by to mess up the place before going swimming. Actually today was one of their better days. The little ones left Elleh and I to catch up on our Heroes while they read, coloured and basically occupied themselves. How cute!
I made some ice tea for after our swimming session.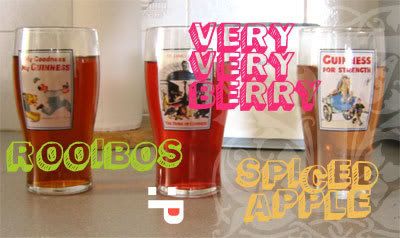 The glasses are Guinness pint glasses from the brewery in Dublin. They're really great. I love having em and I love using em. Nice and large with enough space to stick your hand when washing up. Anyway, we had Rooibos tea, which I really like, which Grandpa G (we gotta get him a new name - any suggestions?) bought for me since it's not easy to find here. Then we had Very Very Berry and Spiced Apple (a Christmas specialty) from Whittard's. I bought them both cuz the tins are so pretty! HEHE.
Anyway, it's time to go to bed now. Groan. What a day to look forward to! If I'm lucky, I'll be back to post tomorrow. If I'm not, you'll know that I've collapsed on the sofa in a dazed stupor at 6am on Tuesday.