I
don't often drive to town at night, especially at dinnertime, unless G is here. But tonight happened to be Teng's birthday dinner at Olé Cafe on Changkat Bukit Bintang. Please don't go there. Crap service, crap food. Nuff said.
Anyway, I was kinda lazy to drive so decided to take the Smart Tunnel. Nice and easy drive. Until I reached the exit. Wow, what a jam! I guess I shoulda known, but it's been so long since I've actually driven to town at dinnertime that I didn't know it had become such a bad place for traffic. What with all the new highways, byways and flyways, it should have improved!
View from my car waiting for the traffic lights.
I love hanging out with my friends but boy, am I doing a lot of second hand smoking! And a perfectly good top was ruined because it smelt so smoky. Damn. If restaurants allow smoking inside, they should have better ventilation. I'm not a fan of Singapore, but they do have the
no smoking in public
rule down pat. Very good.
---
Another joy of living in KL is the art scene that's getting more exposure. Sometimes I don't know if some of them are just wannabes or if they're genuine. Nevertheless, like theatre, you start to see the same faces everywhere. I think the problem is that these artsy people think they're so unique and special that they want to keep their own clique to themselves, but at the same time, want to bring the KL art scene to another level. Maybe if they stopped being so cliquey it'd help.
Art and design markets like the Lapsap/Kraftgrafik Junkyard Sales and other marts hosted by Kraftgrafik are great, but you tend to see the same sellers at each one and the prices are not very buyer-friendly. Artists (I believe) are, by nature, quite stingy. We don't have a lot of money, and oftentimes we look at something and think to ourselves:
"I could do/make that"
, which is usually true - and so we end up not buying anything unless the seller is a friend, or the price is really low. Artists love buying crap for low prices:
"Oh, I could use this to bohemia-fy/junk up my home"
.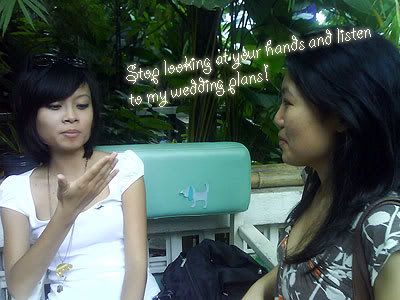 Melissa and bride-to-Bea having a discussion at Palate Palette.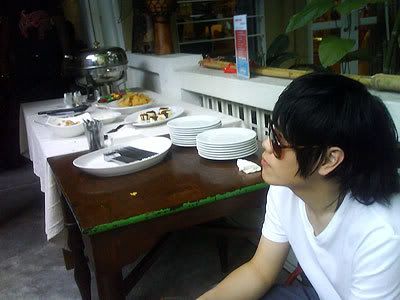 The other half of Melissa and Kraftgrafik - Aaron.
---
G and I took a road trip up to Scotland this March and marked a few places to stopover. One of them was Glasgow. Before we went, everyone was telling us about what a rough place it was and how rundown and ghetto it would be. When we got there, I was pretty impressed. Money had been poured into the city and it was
almost
as beautiful as Edinburgh... okay, I exaggerate. Edinburgh is awesome. But Glasgow is really excellent as well. The nightlife, restaurants, cafes... very sophisticated yet welcoming. It was somewhat like Melbourne and London put together.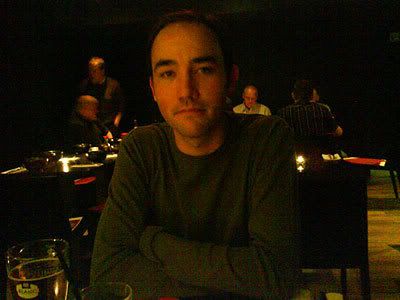 G at Mamasan.
The restaurants near our hotel - Novotel, which incidentally is a really good hotel! - were really cool because they were located in either the basements or ground levels of 5-storey buildings lining the street going downhill. The menus would be on the pavement and you could just walk up and down or across the street looking for something interesting. It was cool!
We finally picked a place called Mamasan which serves Asian food. I won't say much more about the place because G wants to keep it secret. But I just have to say the atmosphere was amazing, the waiters were all hunky, capable and efficient, and the food was the best of all.
---
Okay, so I have been jumping about from topic to topic in this post. Could you tell I did it to clear the photos in my phone? :D