I attended a world-class performance by Fado singer, Mariza, last night. I don't think I have ever experienced a true diva like her before. From her vocals to her body posture and the way she moved around the stage, even the deep, slow and quiet way she spoke, it was all first rate, true drama and emotion.
The music was brilliant too. To me, it was like a mixture of Spanish guitar-type melodies and Middle Eastern influences. Mariza's voice control was also truly amazing. I have heard this sort of music before mixed into other recordings, like a bit of Conjure One's Damascus (but Fado is not as Middle Eastern as that) and even on the Prince of Egypt's "Deliver Us" where Moses' mother (the singer Ofra Haza) sings a bit Fado-like. Don't yell at me if it isn't - it just has strains of it.
Here's a picture of her I pulled out from her official website :
English Version
An album review :
World Music Central - Mariza Fado Curvo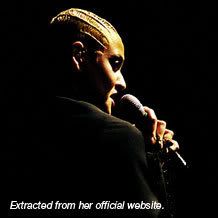 You have to really experience her performance to realise what a true star she is. I would recommend you Google her and read some of the reviews she's gotten for her music. You might just find something new to listen to and get all that Beyonce and Fergie out of your heads.