Here's the beginning of the Roman holiday.
Rome wasn't what I expected... I guess it was a little like Paris, but... older. Found it a little dirty... and teens are VERY fashionable in a haphazard, rugged way. It was also the first time in 10 years that I discovered denim jackets and jeans paired together is still considered fashionable (eeww...). Another discovery - big, black glasses (fake, of course) and lots of cheering in metro stations are part of the young Roman's life.
The best part about Rome is - EASILY 90% of young Roman guys are HOT!!!
The worst (and funniest) part of Rome is seeing Grandpa G lining up in a non-existent "queue" 7 people wide, with 4 people directly in front of him, taking half an hour to buy 2 metro tickets.
---


Lottery tickets! Get me some!




Dining al fresco




At the side of the Pantheon - which by the way, is very impressive, huge and old




Girl eating ice cream in front of the Pantheon. Not sure if she's Roman, but judging by the glasses... she may be...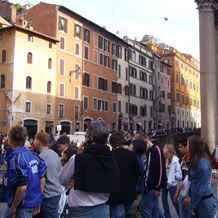 Roman kids outside the Pantheon (check out the girl on far right with denim jacket and jeans!! yux!)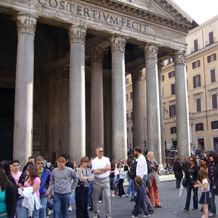 The Pantheon




Fake designer bags and sunglasses are normally not very far from fit Nigerian dudes on the lookout for the really smart-looking Carabinieri




Boring modern Roman building




More interesting faded, peeling old Roman building with al fresco dining