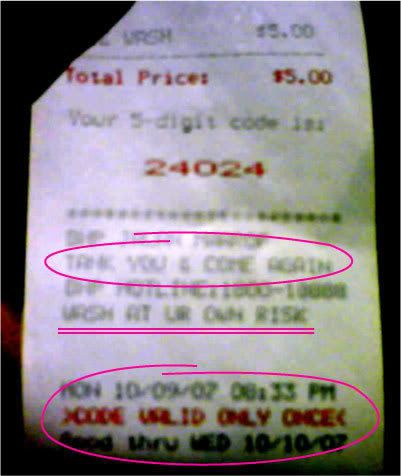 S
orry for the bad quality picture! Had to adjust the black and white levels in order to make the words legible, and therefore, had to sacrifice on realistic colours :P I took this picture at the petrol station while waiting to fill my tyres with air.
Anyway, I just HAD to display this car wash coupon after I'd read it!
Tank You & Come Again:
A misspelt word, or a pun intended to give out subliminal messages to make me fill my tank at BHP? (Didn't work anyway, since after my wash I drove down to Shell)
Wash At Ur Own Risk:
Very modern spelling indeed. Also, quite an ominous sentence, don't you think?
And now you have another idea of gifts for Christmas!
If you look at the date this coupon is valid until, you'll see that you can purchase coupons a month in advance, and you don't have to use it there and then. So go grab a bunch of these coupons, put them in an angpau and give them away for Christmas! Everyone needs a good car wash.
By the way, stay tuned for the next post, because I'll be bringing you some GREAT testimonials I read in a flyer I picked up that got me cracking up with laughter and has brought so much joy into my life!